What is The Real Cost of Insuring A Small Business?
In the circumstances that we find ourselves in, it has become more than necessary to protect the financial health of your small business. This little venture might be all that you and your family have to make ends meet. But more than that, your small business might be the only reason that your small number of loyal employees have food on their table.
Insuring your small business will protect you, your family, and all the people who are tied to your business by covering for unexpected, unplanned, and unforeseen financial costs. So, if you are still contemplating whether having your small business insured is worth it, we guarantee you that it is an extremely profitable investment because the real cost of insuring a small business is much lower than you expect it to be.
What is Small Business Insurance?
Small business insurance is an insurance policy that is particularly designed to protect your business, the business property, vehicle, and all the key stakeholders that are a part of your business operations, such as your customers, clients, and employees.
Any business that has less than 50 employees is categorized as a small business. According to the Insurance Information Institute, the Business Owner Insurance Policy is only limited to businesses that have less than one hundred employees and have a revenue generation that is less than $5 million.
It was stated in the Insurance Journal that around 75% of the businesses in the USA are uninsured. When it comes to small businesses, business owners hesitate to spend money on insuring their businesses, and because of this, 40% of small businesses in the USA are uninsured.
These grim statistics explain why every 1 out of 3 small businesses in the USA is susceptible to natural disasters, unforeseen events like accidents, slips and trips, lawsuits, and thefts.
Why Do You Need Small Business Insurance?
Small businesses like yours need insurance to protect them against harmful events which could disrupt their business operations, jeopardize their business's reputation, and can lead to an immense financial loss of the business.
The insurance claims can be made if an unexpected event occurs that puts the financial health of your business at risk. With these insurance claims, you can pay for the cost of damage, the legal fees, out-of-court financial settlements, reimbursements, and medical expenses.
You need small business insurance because accidents can happen to anyone, at any time, at any place, and therefore, you need some sort of safety net to fall back on.
Generally, small business insurance gives you financial protection for the following:
Robbery/ theft
Fire
The collapse of business property
Road accident that damaged the business vehicle
Medical expenses for the customer who was injured or died as a result of your business operations.
Medical expenses for your employee who was injured, fell ill, or died as a result of your business operations.
Loan repayment
Lawsuits that can tarnish the reputation of your business and shut you down, e.g., libel.
Salary and operational expenses in case the business had to be closed suddenly as in case of a building collapse.
Cyber-attacks that can compromise your employees' and clients' personal information and steal your business secrets.
Some insurance policies give you coverage for natural disasters like hailstorms, thunderstorms, floods, and earthquakes.
And while it is true that most small businesses avoid getting their business insured to save money, The Hartford financial service company conducted a survey and found out that when a disaster or tragedy strikes, the most expensive insurance claims are as follows:
Insurance claims to protect a small business's reputation: $50,000
Insurance claims to pay for the repair cost of a damaged company vehicle after an accident: $45,000.
Insurance claims after a fire destroyed small business property: $35,000
Insurance claims after a small business's product was found to be faulty: $35,000
Insurance claims after a customer sustained an injury on the small business property: $30,000
Insurance claims after wind and hail damaged business property: $26,000
Insurance claims after there was a burglary at the business property: $8,000
What Type of Coverages are Available?
The type of small business insurance coverages that are available in the state of Florida are:
Business Income and Extra Expense
Business Owners Policy
Commercial Crime Coverage
Commercial Insurance Packages
Commercial Umbrella Policy
Data Breach Insurance
Employment Practices Liability Insurance (EPLI)
Errors & Omissions Insurance
Hired and Non-Owned Coverage
Inland Marine Coverage
Liquor Liability Insurance
Professional Liability Insurance
However, it is to be noted that these coverages will vary from industry to industry and from one insurance company to another.
For example, only the businesses that are in the liquor manufacturing or liquor selling business require liquor liability insurance. Whereas, only those businesses who operate from a physical space require business property insurance as the ones that are operating online, such as e-commerce stores, don't have a business property and therefore do not require business property insurance.
Similarly, some insurance companies may only offer coverage that is required by almost all small businesses, like general liability insurance, workers' compensation, business income, and extra expenses.
What Factors Affect Your Monthly Premiums?
There are many factors the insurance companies take into account before calculating your small business insurance monthly premiums. These factors help them assess how risky or profitable your small business is. If the nature of your small business or the way in which you are operating seems risky to the insurance companies, your monthly premiums will be higher, but if your small business looks safe and profitable, the monthly premiums will be lower.
The factors that affect the monthly premiums of your small business insurance are:
Industry and Type of Business
Some industries, by nature, are more hazardous or risky as compared to others. For e.g., if you are a pharmacy store, then your monthly premiums will be higher than that of a general store because selling medicines is more as compared to selling bread and milk. People's lives can be can at stake if you sell a customer a heavy dosage of a mind-altering drug like anti-depressants without a proper prescription.
Moreover, in some businesses, the risk of sustaining a loss is higher as compared to other businesses. For e.g., if you are a small IT company that is trying to develop new software for university lecturers, the chances of your business going in a loss are higher as compared to a small hardware store. This is because it could take years before you finally manage to perfect the software, and even if you do it, investors or buyers may not be interested in the idea.
So, the nature of your business can be an important determining factor in the cost of your monthly premiums.
The Location of Your Business
The location of your business can also be another factor that affects the monthly premiums of your small business insurance. In some states, like New York and California, the average monthly premiums for small business insurance are much higher as compared to Mississippi and Iowa.
This is because some states in the USA have become hubs for all commercial activities, and the populous cities in these states increase the chance of competition faced by small businesses. Therefore, the chances of a business sustaining loss increase. Whereas, states that have less commercial activity and are generally known to be more affordable to live in have low monthly premiums for small business insurance because the insurance companies know that the profit margin for all businesses in these states are quite low, and hence, they charge their customers accordingly.
The History of Your Business
The insurance companies will take into consideration the history of your business. They will assess how long you have been in business and whether you have incurred any losses over the years.
Companies that generally have a good reputation in the market, are known for their fair dealings, have been in business for quite some time, and have no history of any major business losses have lower monthly premiums are compared to those whose business records have been tarnished with bad reviews, losses, and unfair business dealings.
Moreover, startups generally have higher monthly premiums for their small business insurance plans as compared to the more established small business like a family-owned restaurant that has served its customers for the past 50 years.
Your Experience Level
Your level of experience as a business owner also helps determine the monthly premiums of your small business insurance.
If you have proven yourself to be a good business owner who has sound knowledge on how to run a business successfully and are also well-versed in rules and regulations and safety requirements for your business, then the insurance company will have greater trust in you.
They will be confident that you will do your best to avoid all harm that may grip your business and will take full responsibility for your actions in case something does happen. They won't mind trusting you with their money if an insurance claim has to be paid, and to show their level of confidence and trust in you, they will happily reduce your monthly premiums by a hundred dollars or so.
The Insurance Company That You Approach
The cost of monthly premiums for your small business insurance is also dependent on the insurance company that you approach and purchase your insurance coverage or policy from.
Some insurance companies can offer you the same policy for insuring your small business at a much lower monthly or annual premium as compared to others.
Most of the basic coverage plans that are offered by insurance companies for small business insurance are similar and provide the same kind of coverage, but their cost can vary greatly depending on the size, reputation, and location of the insurance company. That's why it's always a good idea to shop around before settling for a coverage plan with a specific insurance company.
It could be that you bought the Business Liability Insurance from an insurance company that is charging you $140 per month for the monthly premiums, but another insurance company that is comparatively newer in the market is offering the same coverage plan with a slight change of words, General Liability Insurance, for $120 per month. By shopping around and doing proper research, you can easily save $240 per year.
You must also keep in mind that some insurance companies will tell you the payable monthly premiums excluding the tax charges, but when it is time to make the payment, they will include the tax as well. So, always as the insurance company if the cost of the monthly premium for your small business insurance includes the tax or not.
This is the reason why the insurance companies that charge you for the premiums on an annual basis charge less as compared to the ones that charge you on a monthly basis. Because at the end of the year, tax deductions are adjusted, and you only pay for the insurance premium without the tax charges.
What is The Real Cost of Insuring a Small Business?
On average, the cost of insuring your small business is:
The cost of insuring your small business will vary depending on the nature of your business, the location, your business's financial health, and the policy plan that your purchase.
On average, a restaurant can pay up to $300 per month for the cost of insuring its business, while a retail outlet will be required to pay only $49 per month as the premium. This is because the more risky that your business, the chances of sustaining injuries, getting sued, and being involved in a financially damaging accident increase.
A restaurant business is more dangerous than a retail outlet because you are putting your customers' health at stake. Therefore, the monthly premiums are 6 times higher than those charged to a retail outlet. However, you can always lower the premiums by making your business operations safer.
How Can You Lower the Cost of Your Small Business Insurance?
Install security cameras
Install safety features like airbags, tracking devices, and alarms in your company's vehicle
Have fire exists in the business property
Allow commercial building inspectors to conduct safety checks for your commercial property, such as gas pipelines, electricity cables, water pipelines, earthquake-proof materials, etc.
Never claim what is untrue
Always seek FDA approval before launching a food product
Only sell licensed goods
Make it mandatory for your staff to wear PPE safety suits whenever they are working on risky projects like fixing a light bulb on the ceiling, stacking shelves that are too high, etc.
Cost Analysis
The average cost of insuring a small business, depending on the type of coverage, is as follows:
| | | |
| --- | --- | --- |
| Type of Coverage | Minimum Monthly Premium | Maximum Monthly Premium |
| Business/ General Liability | $ 25 | $ 166 |
| Errors and Omissions | $ 75 | $ 167 |
| Business Property Insurance | $ 42 | $ 417 |
| Commercial Auto Insurance | $ 125 | $ 250 |
| Business Owner Policy | $ 42 | $ 292 |
| Worker's Compensation | $ 5 | $ 240 |
| Cyber Liability Insurance | $ 63 | $ 667 |
Table 1: The average cost of monthly premiums for different types of insurance coverages for small businesses. (Source: https://howmuch.net/costs/small-business-insurance)
The average cost of insuring a small business depending on the type of coverage as offered by Insureon: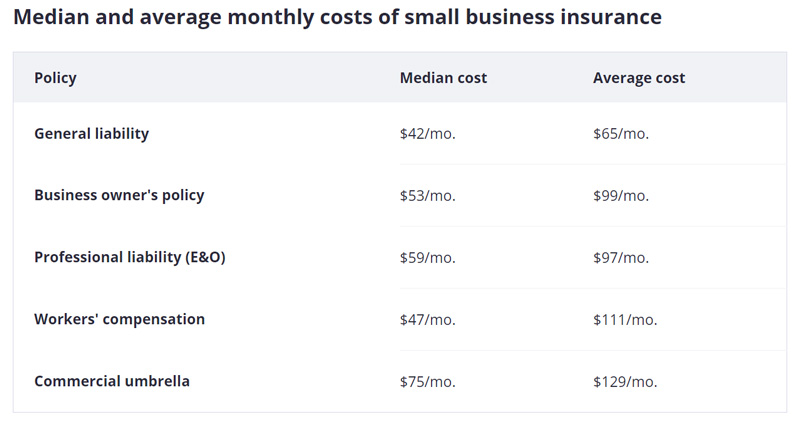 Figure 1: The table above depicts the median and average monthly cost of small business insurance depending on the type of coverage. (Source: https://www.insureon.com/small-business-insurance/cost)
From the two tables above, it can be seen that insurance companies can offer rates that are different from the national average for the monthly premiums of your small business insurance.
Therefore, you should always shop around and ask for quotes from different insurance companies within the city or county to determine the real cost of insuring your small business.
---
Who Are We?
Here at AC Insurance, we understand your need to insure your small business. We know that you may have invested your entire life's saving in starting and expanding this small venture, and this is why we will help you secure it.
We offer 6 different kinds of coverage plans for small business insurance to help you safeguard your small business and all the key stakeholders from the worst.
You can call us at 561-683-2230 to get a free insurance quote for your small business or fill out a form here. Our team will get in touch with you and guide you when it comes to purchasing the best insurance policy for your small business.