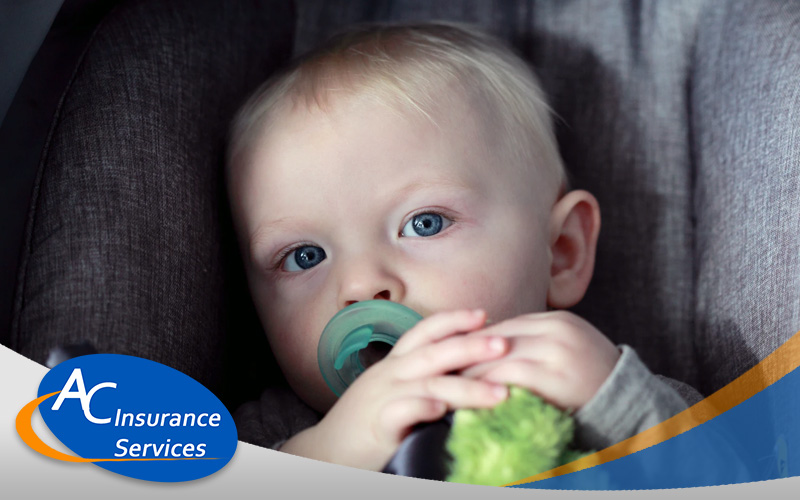 Guide to Child Car Seat Safety
Before going anywhere with your kids, making sure they are buckled in safely can considerably reduce the risk of a road accident. According to the Centers for Disease Control and Prevention, using a car seat can decrease the chance of death among infants and toddlers by as much as 54%.
To ensure safety, children under 13 should always sit in the backseat. This is because airbags can actually be fatal for young children seated in the front. This blog contains all you need to know about using car seats to ensure your child's safety.
Types of Car Seats
Different types of car seats are available based on the age of a child.
Infant Car Seat
As the name suggests, this seat is designed for infants. A baby can fit into it until they turn 2 or approach the weight limit for the seat. These seats are made to fit into the car solely in the rear-facing position.
A major benefit of an infant car seat is that it can also serve as a carrier. However, make sure you never place the seat in a grocery cart as that can prove to be dangerous.
Infant seat models can be directly fastened into the car or into a foundation that stays fastened into the car seat. You can purchase multiple bases if you have more than one car.
Depending on your baby's growth and the size of the seat, an infant car seat can last 6-24 months. Moreover, a rear-facing seat is always a better option than a front-facing one because it is safer.
According to the National Highway Traffic Safety Administration, it is best to use rear-facing seats until your child is either 3 years old or has approached the height or weight restriction set by the car seat manufacturer.
Convertible Car Seats
These can essentially "convert" from rear-facing to front-facing. You can start using them since the birth of your baby till they outgrow the seat.
Convertible car seats can be used in both forward and rear positions, depending on your child's weight. Rear-facing position is recommended till your child is 3 years old, after which it is safe to use the seat in a forward-facing position.
One of the downsides of using a convertible car seat is that it is not portable. This means that unlike infant seats, you cannot use them as an infant carrier. Moreover, they do not have bases that can be strapped to your car. Some parents find it difficult to use convertible seats for infants as they are larger in size.
However, a convertible seat can accommodate both infants and toddlers, making it a long-lasting investment. It can typically fit children weighing anywhere between 5-35 pounds, especially when used in the rear position.
When choosing a convertible car seat for your child, make sure it contains the following features:
Up-front harness adjustment
2 recline positions
Up-front buckle-release button
Plastic belt guides present in the pad for simpler harness adjustment
3-In-1 Seats
These car seats are similar to convertible ones. However, they have an added advantage of functioning as a booster as well.
You only have to purchase a single seat and can switch the position from rear- to forward-facing booster seat after your child is old enough to use a seatbelt. A 3-in-1 seat is designed to shield your child in case of side, rear, frontal, and rollover crashes.
The seat of a 3-in-1 car seat is large and comfortable enough to accommodate a growing child. Its soft and reversible head insert is especially designed to cradle your little one adequately.
Although a 3-in-1 car seat may be more expensive than an infant or toddler seat, it can prove to be more economical in the long run as your child grows with time.
3-in-1 seats typically have higher weight ratings in both rear- and forward-facing positions. For instance, while an infant seat can contain a child of 20-25 pounds, a 3-in-1 seat can hold up to a 35-pound child.
This implies that your child remains in the rear position for a longer time, which is safer. Moreover, they can also use a harness for a longer period, which offers better protection as compared to a seatbelt.
Another advantage of opting for a 3-in-1 car seat is that it would be familiar for the parents as well as the child. As parents would get used to the seat, they would not have to learn to use a new one at every development stage of their child. Not to mention, their children are also more likely to sit comfortably in a seat they are used to.
Booster Seat
Booster car seats can only be used in a font-facing position. In order to use a booster seat, your child should weigh a minimum of 30-40 pounds. This implies that a booster seat should be used once your child outgrows a typical car seat.
Children whose height or weight surpasses the forward-facing limit for a car seat can use a belt-positioning booster seat. This practice can continue until the vehicle seat belt can buckle them up properly.
Children can use a car booster seat till they grow up to 4 feet 9 inches tall and age between 8-12 years. Many children do not fit in vehicle seat belts until they are 10-12 years old.
There are two main kinds of booster seats available in the market, namely high-back and backless booster seats. They do not have a harness, but are used with shoulder and lap seat belts in your car.
When buckling up your child in a booster seat, make sure that:
The lap belt is low and fits well across your child's upper thighs.
The shoulder belt is fastened across the middle of their chest while the shoulder is off the neck.
If the booster seat features lower tether attachments or anchors, go through the manual for an installation guide.
Car Seat Installation
Car seats can either be installed with your vehicle's seatbelt or its LATCH (lower anchors and tethers for children) mechanism. LATCH is essentially an attachment system for the safety of car seats.
Instead of the seat belt, the lower anchors can be used to fix the seat inside the car. Parents often find them easier to use in certain cars. On the other hand, the top tether is meant to be used with a forward-facing car seat.
Both car seatbelt and LATCH systems are safe, so you can use either depending on the car seat and the vehicle. Typically, it is advisable to only use one of the two options, unless the seat or vehicle manufacturers approve the use of both simultaneously.
Vehicles that have the LATCH mechanism contain lower anchors in the back seat where the two cushions join. The tether anchors can be found behind the seat, that is, either on the panel at the back of the seat or on the back of the seat, floor or ceiling.
Forward-facing car seats have tethers or tether connectors that can be linked securely to these anchors. Check out the vehicle's owner's manual to confirm the maximum weight the top tether can withstand.
Lower anchors have a 65-pound limit, which includes the total weight of the child and the car seat. Make sure you check the car seat manufacturer's guidelines about the maximum weight of a child for using the lower anchors. You will usually be able to find the maximum weight printed on the label.
Note for Seat Belts
If you fix a car seat using a car seat belt, ensure that the seat belt's locks are secure. In a majority of the latest car models, the seat belt can be locked by first pulling it all the way out and then letting it retract so that it is fastened tightly around the car seat.
Moreover, several car seats contain lock-offs, which allow you to lock the belt without the need to lock the seat belt as well. If you want to learn about how a seat belt locks, check out the owner's manual.
Safest Place to Ride
The middle of the back seat is the safest place to ride for children under 13. However, if the vehicle is uneven or narrow, it may be hard to get a safety seat fastened in the middle. Moreover, some vehicles do not contain lower anchors for the middle seating position.
It is best to keep the car seat at an angle where you can secure it tightly with either the lower anchor or the seat belt. Sometimes, you may find this position on the right or left side of the back seat instead of the center. If you still face difficulty, a CPS technician can help you out in this regard.
Car Seat Safety Tips
Opting for a child safety seat that is suitable for your child's age and weight can effectively prevent injury or death due to road accidents.
Choosing a Car Seat
Here are some tips to help you make the right choice when it comes to car seats.
Make sure the seat meets national standards. This information is usually present on a sticker on the car seat's side. The label should state that the child-restraint system is in line with all the US federal motor vehicle safety standards applicable.
Place your child in the seat to check if it is right for them, considering their height and weight.
Before buying, put the seat in your car to make sure it fits. However, if the store does not permit this, then go through the return policy.
After purchasing the seat, adhere to the manufacturer's instructions regarding installation. Read about how to install a car seat using a LATCH system or seat belt and go through height and weight restrictions.
If you are still confused about installing the seat, go to a car seat checkpoint or speak to a Certified Child Passenger Safety (CPS) technician.
Daily Safety for Children
There are several aspects you need to take care of when driving with children. For instance, make sure you never leave your child alone inside a car, as it can lead to tragic consequences such as kidnappings, mistakenly getting the car in motion, heat stroke, getting stuck inside the trunk, and even life-threatening crashes. Some everyday safety tips for your child include:
Adhere to defensive driving habits to steer clear of road accidents. It is important to stay as alert as possible with a kid on board.
When riding with a child, keep an item you would need on the floor board in the back seat. Examples include your employee ID, handbag, phone, or briefcase.
When the car seat is not occupied, place a large stuffed toy inside it. When you place your child in the seat, keep the toy in the passenger seat as a reminder of child being present in the back.
Make a habit of always opening the back door of your car when you end your journey in order ensure you don't forget your child inside the vehicle.
If your child goes missing, immediately search your vehicles and the car trunk.
If you find the child locked inside the vehicle, get them out as soon as possible. If they seem ill, dial 911 or your local emergency helpline.
Final Word
Car seats are vital for the safety of your child on the road. It is best to opt for a rear-facing position till your child is at least 3 years old. You can choose from an infant car seat, convertible car seat, 3-in-1 seats and booster seats (for older children).
The best place to buckle up your child in a car seat is usually the middle of the back seat. However, you can go for the right or left side in case your vehicle is too narrow.
If you have a child, make sure you make it a practice to open the back door of your car so that you don't forget to pick your child up when you reach your destination.