SINGLE FAMILY HOMES
A homeowners policy covers most importantly the dwelling and your personal property. At A.C. Insurance Services, we represent several "A"-Rated insurance companies, as rated by www.demotech.com, an authority on financial strength ratings.
Whether your home is your primary residence or a second residence, such as a vacation home or investment property, located anywhere in Florida, we can cover your home with a homeowners policy that meets your needs and saves you money.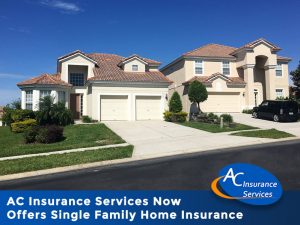 For homes built prior to 2002, a Uniform Mitigation Form will provide a substantial savings on your homeowners policy. At A.C. Insurance Services, our agents specialize in tailoring the policy to fit your needs.
In Palm Beach County ? Drop by one of our convenient offices to discuss your property and find the best options for your needs, and a free quote.
Call, email, or drop by to speak with a friendly, knowledgeable A.C. Insurance specialist today! We're here to help you save!