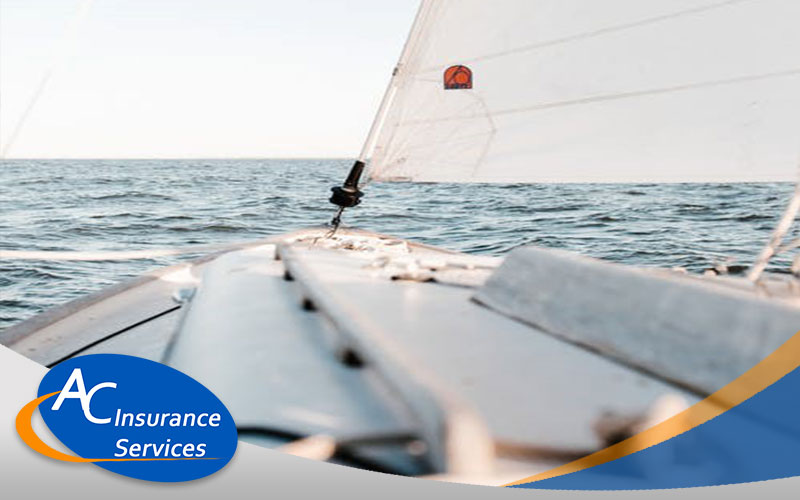 What is Boat Insurance and Why Do You Need It?
Boat insurance provides coverage for your sailboat, motorboat, or personal watercraft in case of an accident or damage caused by fire or lightning. The size, type, and value of your boat would determine the kind of insurance you need.
Boat Insurance Basics
Boat insurance typically offers coverage for boat parts, such as:
Machinery
Fittings
Furnishings
Permanently attached equipment
Hull
Small crafts may be included as part of your standard homeowners policy or renters insurance policy. Many insurers offer limited coverage for property damage for small boats like small sailboats, small powerboats, and canoes with a horsepower of less than 25 miles per hour.
On the other hand, different insurance policies exist for larger and faster boats like yachts, as well as personal watercraft like jet skis. Boat insurance typically covers physical damage to the boat, theft, injury, and accidental damage.
Types of Boat Insurance
The cost of boat insurance depends on the type of insurance policy you opt for. Different policies are available according to the type of vessel you own.
Boat insurance is typically categorized into the following categories:
Agreed value: An agreed value policy offers coverage according to the value of the boat when the policy was drafted. Although it may have a higher initial cost, the depreciation for a total loss of the boatis not factored in.
Actual cash value: This type of policy is less expensive but takes depreciation into account. This means that the insurance company would only pay the actual cash value of the vessel at the time it is considered a total or partial loss.
Insurance Coverage
Boat insurance policies can differ according to the boat type, the waters in which it travels, and the number of months a year it is used for. Your insurance policy may cover:
Physical Damage
This includes damage or loss due to common perils such as theft, fire, storms, collision and sinking. Although the property covered may differ, policies typically take into account boat parts such as motors, hull, additional fuel tanks, batteries, anchors, and onboard safety equipment like flotation devices and fire extinguishers.
Liability Coverage
This policy pays for the damage to another person's property in case you cause an accident. Boat liability insurance is also known as watercraft liability coverage. It typically includes:
1) Watercraft Bodily Injury Liability Coverage
This covers the medical bills and related costs (such as income loss) in case someone gets injured due to an accident caused by your boat or watercraft.
2) Watercraft Property Damage Liability Coverage
In case you damage someone else's vessel or property in an accident with your boat, this insurance policy takes care of the repair and replacement costs. For example, if there is an accidental fuel spill that causes damage to another person's property, watercraft liability insurance will pay for the clean-up costs.
Medical Expense Coverage
This pays for bodily injury as a result of an accident, no matter which party is at fault. It includes the cost of medical and funeral expenses.
Claim and Defense Expenses
Liability coverage also takes legal expenses into account. In case a lawsuit is filed against you, liability insurance can pay for the legal defense costs that it may incur.
Uninsured Watercraft Coverage
This aspect keeps you covered in case you are in an accident with an uninsured boater. It pays for the injuries sustained by you, your family, or anyone else in the boat.
Personal Effect Coverage
Your fishing equipment and other personal belongings are taken into account by personal effect coverage. It would have you covered in case they get damaged, stolen, or lost.
Emergency Services
These have you covered in case you face an emergency situation. If your boat breaks down, the insurance policy will cover the cost of towing, labor, and the cost of transporting oil, fuel, or battery.
Optional Coverage
Depending on your vessel and insurance policy, there may be some optional coverage options available for you. They may include:
1) Rental Liability
This provides insurance coverage on rented vehicles. You can take advantage of liability insurance even if you are renting a boat in the short-term, such as for vacation.
2) Boat Rented to Others
This has your boat insured if it gets involved in an accident while being rented to someone else. It pays for the property damage, injury, and liability claims filed against you.
3) Rental Reimbursement Liability
The insurance company pays the cost of renting a boat while the boat you own is under repair due to damage that is covered by the insurance policy. This option provides proper liability insurance while you use the rented boat.
4) Tournament Fee Reimbursement
This aspect provides proper reimbursement for a non-refundable entry fee of a tournament that you were not able to take part in. However, the reason for not being able to participate must be covered loss to the watercraft, towing vehicle accident, or certain emergencies.
5) Incidental Commercial Fishing
This elongates your property and liability insurance in case your vessel is involved in incidental commercial fishing. Liability is usually restricted to boat liability.
How Much Does Boat Insurance Cost?
The price of boat insurance varies according to:
The state you are located in
Size, type and age of your vessel
Size of motor and the way it is powered
Whether you drive the boat in inland waters or open seas
Whether you have opted for any additional coverage
You can generally purchase boat insurance for as less as $200 or as much as $500 per year.
Boat Insurance Discounts
Insurance companies may offer a number of discounts that give you the advantage of reduced prices under certain conditions. You may receive a discount for the following:
Diesel- powered craft, which is safer as compared to gasoline powered boats as the probability of an explosion is much lesser
Ship-to-shore radios
Coast guard approved fire extinguishers
Boating and water safety education courses completed by the crew
Two years of claims-free experience
More than one policy with the same insurer
Policy Limits and Deductibles
It is important to understand the concept of limits and deductibles before purchasing a boat insurance policy.
Limits
Like other insurance policies, some coverage limits apply to boast insurance as well. Each insurance policy typically involves a collection of coverages, and each coverage comes with its own limit.
A limit is the highest amount the insurance company would pay in case of a loss or damage covered by the policy. Go through your insurance policy carefully and talk to your local agent to know whether there is any room for adjustments according to your requirements.
Deductibles
If you file a claim, you would need to pay a deductible, which is essentially your share of the insurance claim. A single insurance policy may contain several deductibles.
For instance, as a boat operator, your vessel has been damaged in an accident and the cost of repairs are amounting to $5000. In this case, you may have to incur a deductible of $500, while the insurance company would pay the rest of the cost.
If you choose a policy with higher deductibles, you may pay less money upfront, but may have to pay out of your own pocket later if you experience an accident later.
Boat Safety Practices
Several boat accidents occur every year, which can prove to be quite costly in terms of damages and injuries. In 2019, 613 people died and 2,559 were injured in boat accidents across the United States.
The risk of disasters may increase if you are traveling too fast, the weather conditions are not favorable, you are driving while intoxicated, or fail to adhere to boating rules and laws.
Here are some safety practices to help you steer clear of accidents and claims:
Properly Equip Your Watercraft
Before you embark on a boat journey, make sure that your watercraft is adequately equipped. For starters, it must have navigation lights, a whistle, and a horn or bell.
Moreover, make sure that you keep a tool kit with spare parts, fresh water, flares, a flashlight, and a radio. It is also crucial to carry at least one fire extinguisher that is easily accessible for immediate use.
Check the Weather Forecast
Take a look at the weather forecast before you depart. Always let someone know where you would be headed and when you would be expected to return. Make sure you check the fuel, engine, and electrical and steering systems.
Do Not Overload Your Boat
Before you launch, distribute the load on board evenly. Also make sure you do not load beyond the capacity of your watercraft. If you have a small vessel, instruct passengers to not stand up or shift weight suddenly.
Stay Informed and Alert
Know the marine traffic laws and learn key boating signals, such as distress signals. When in shallow waters, keep a lookout for other boats, swimmers, and floating debris.
Frequently Asked Questions (FAQs) on Boat Insurance
In this section, some common questions regarding boat insurance are addressed to provide a sound understanding of how insurance works.
1) Does boat insurance cover passengers?
Yes, boat insurance takes into account the passengers as well as the owner in case of an accident. Passengers are covered as per the liability section of the insurance policy. However, a policy that covers passengers may not cover the water skiers you pull behind your boat.
2) Does boat insurance cover theft?
Comprehensive boat insurance does take into account theft of the watercraft itself. However, personal belongings inside the boat may not be covered. Carefully go through insurance terms and conditions to precisely know the items covered.
3) Is sinking covered by boat insurance?
Yes, boat insurance typically pays for the damage if you have opted for physical damage coverage and your vessel sinks due to a covered event such as a storm. Like most kinds of coverage, you will be covered for sinking according to your policy limit.
4) Does boat insurance cover lower units?
Damage to the lower portion of a boat is covered as long as it was caused by a covered event, such as a collision. However, routine wear and tear is not covered, so make sure you keep your watercraft well-maintained.
5) Does boat insurance cover hurricanes?
Damage by hurricanes may or may not be covered by insurance, depending on the insurance company and policy structure. If the area you live in is often hit by hurricanes, tropical storms, tornadoes, or windstorms, do ask your local agent about storm damage coverage.
6) Is the motor covered by boat insurance?
Yes, the motor of your boat is covered by insurance. However, the condition is that the damage must be caused by a covered event. For example, if your watercraft collides with another and the engine gets damaged, your insurance policy will take care of the costs. Engine damage due to lack of maintenance is not covered by boat insurance.
7) Will boat insurance cover the costs if I hit a rock?
If you have comprehensive insurance or property damage coverage as part of your policy, the insurance company will pay for damage incurred by collision with logs, rocks, and other obstacles in the water.
8) Is the boat covered under homeowners insurance?
Homeowners' insurance policy generally includes some coverage for your vessel, including its equipment, motors, trailers, parts and accessories. However, only certain types of watercraft are included as part of your homeowners insurance policy. Click here to read about the basics of home insurance.
Final Words
If you own a boat, you may be required by state law to have liability coverage. Boat insurance is generally affordable and protects you against property damage and injuries. AC Insurance has been providing top quality marine insurance services since 1991. Click here to get a free quote today!