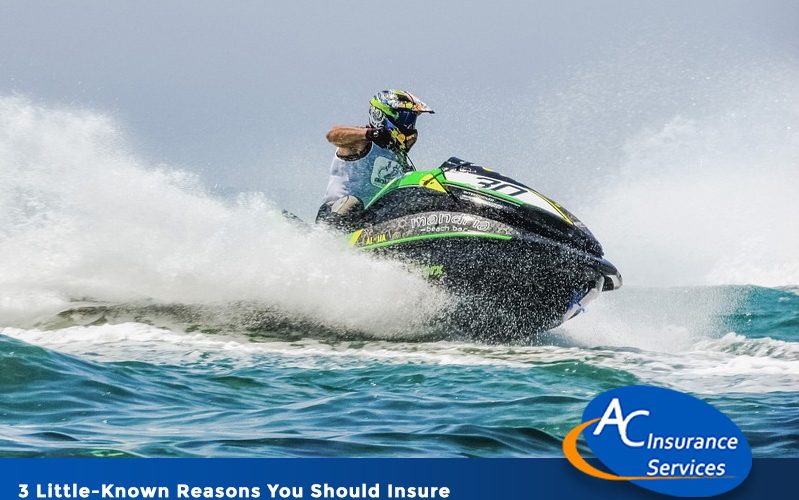 3 Little-Known Reasons You Should Insure Your Jet Ski or Other Personal Watercraft With Marine Insurance
One of the best parts of living in Palm Beach hardly needs to be mentioned: it's our close proximity to the ocean.
In addition to staggeringly beautiful sunsets that beg to be watched, warm weather, and mouth-watering food, a significant portion of the locals take advantage of the waterfront both for work and play.
Do you own a Jet Ski®, Sea-Doo®, WaveRunner® or other personal watercraft?
Have you ever considered the benefits of insuring it?
For many Palm Beach residents, the answer has unfortunately been no.
As insurance professionals, this tends to surprise us. After all, as people we insure our cars, our homes, and even ourselves with health insurance. So why do our personal watercraft so often go without this basic protection?
Some may argue that it's because Florida doesn't have a mandatory personal watercraft (PWC) insurance law, but this doesn't seem quite right. In many situations personal watercraft owners simply don't know that PWC insurance exists or had never thought to look into it.
Even though PWC insurance isn't legally required here in Palm Beach, for many beach-goers it's still a very wise decision. Think of it like this: would you still insure your car even if you weren't required to do so by law? Odds are you would, and your reasoning would be that you wanted to protect your investment, other drivers on the road, and yourself.
Make no mistake about it, personal watercraft are an investment! The average price of a Jet Ski® or similar craft can range from five to 20 thousand dollars or more.
PWC insurance is smart. You're not only protecting your investment, you're protecting yourself, your investment, and your overall finances.
In addition to standard insurance options like basic liability (e.g., if you're responsible for someone else's property being damaged or a personal injury), collision, or comprehensive coverage, PWC insurance offers a bevy of additional benefits that would interest any Floridian with an affinity for the waves. Let's take a look at a handful of them now:
#1 – If You Wipe Out, You Won't Be Wiped Out
Did you know that many forms of marine insurance for personal watercraft have a "total loss" option? This means that if your Jet Ski®, Sea-Doo®, WaveRunner®, or other form of personal watercraft gets damaged beyond reasonable repair (or "totaled"), you can be fully reimbursed up to the original price of the craft.
#2 – You Won't Be Left Floating on the Water
If you've been a fan of personal watercraft for a long time, you probably know what it's like to be stuck out on the water with a broken down craft.
(Or if you haven't, the idea has probably worried you terribly.)
Many PWC insurance policies offer an on-water towing coverage option. This means that if you're stuck on the waves, you can get help with the towing costs. In fact, some policies even have an on-water labor option which means that you'll be assisted right on the water to get your personal watercraft running and safely back to dry land.
#3 – If You Already Have Boat Insurance, PWC Insurance Can Often Be "Tacked On" For a Discount
Did you know that if you already have a form of marine insurance, such as boat insurance, you can often have personal watercraft coverage added to the policy at a discount?
Final Considerations & Next Steps to Insurance Your Personal Watercraft
If you'd like to learn more about the benefits of marine insurance for personal watercraft, we'd love to hear from you here at AC Insurance Services.
We provide our valued clients with discount insurance rates for vehicles, homes, commercial properties, and yes, PWC insurance (and even more). Please feel encouraged to contact us today so that you can rest easy knowing your investment is protected.